The Niigaani-gichigami Water Festival
The Niigaani-gichigami Water Festival brings together diverse communities to learn about, pray for, and express our gratitude for the waters we depend on. A variety of events, lectures, and activities will be held throughout May and June in celebration of the festival.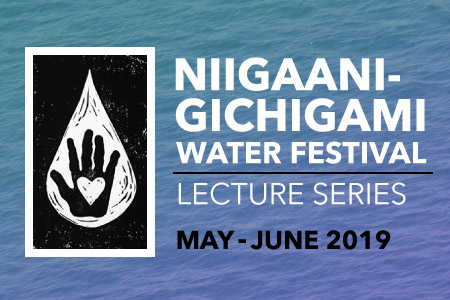 The intention for the festival is to build a network and community thinking/acting on the question- how do we live on the water and build a right-relationship with the waters in our region? We hope to bring together a variety of communities for celebration of the gift of water, lament, learning, and community building through ceremony and song.
Wednesday, May 15 – Reconciliation in our Watershed with Amelia Berot-Burns of KAIROS Ecumenical Justice
We won't save a place we don't love; we can't love a place we don't know; and we can't know a place we haven't learned.
What are the traditional Indigenous names of the places where you live? What shapes the geology and history of this region? Join us for an interactive workshop on understanding more deeply the physical spaces in which we live, that we might grow in love of the places we call home.
6:00pm Service (Cathedral Centre, 65 Church St.)
6:30pm Light Supper (Cathedral Centre, 65 Church St.)
7:00pm Lecture (Cathedral Centre, 65 Church St.)
Wednesday, May 29 Listening to the Silenced Streams: Honouring the Buried Rivers of Toronto
Join us as Dr. Debby Danard, Anishnaabe-kwe traditional knowledge keeper, leads us in ceremony for the river buried under the Cathedral park. After the ceremony please join us for a meal, followed by traditional teachings on the sacred life of water, and the special message that the covered waters have in bringing to surface what has been hidden within us all.
6:00pm Water Ceremony (Cathedral West Lawn)
6:30pm Light Supper (Cathedral Centre, 65 Church St.)
7:00pm Lecture (Cathedral Centre, 65 Church St.)
Dr. Debby Danard, an Anishnaabe-kwe from Rainy River First Nation, in North Western Ontario. She is a PhD graduate from University of Toronto, a water walker, advocate and water ambassador who speaks and performs water ceremonies to raise awareness of the spiritual nature and rights of water. She is also a traditional life practitioner and life promotion ambassador and shares these teachings in schools and community organizations.
Wednesday, June 12: Our First Water: Traditional Indigenous Teachings on Birth
The womb is the first water our beings experience on Earth, yet pregnancy and birth are shrouded in mystery. Learn from Indigenous leaders Denise Booth and Vivian Recollet as they speak on traditional knowledge and ceremonies around birth and our connection to creation.
6:00pm Service (Cathedral Centre, 65 Church St.)
6:30pm Light Supper (Cathedral Centre, 65 Church St.)
7:00pm Lecture (Cathedral Centre, 65 Church St.)
Moderated by The Rev'd Evan Noodin Smith of the Toronto Birth Centre and Toronto Urban Native Ministries