Seeds of Sanctuary

Upcoming
NEXT MEETING: FRIDAY, FEBRUARY 10 AT 5:45PM IN THE CATHEDRAL CENTRE
One Million Stars to End Violence Project
(http://www.onemillionstars.net)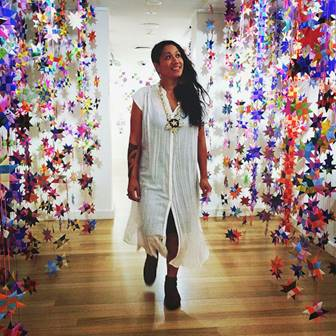 One Million Stars Project is a peaceful international weaving project founded by Maryann Talia Pau, an Indigenous Samoan artist and weaver now living in Australia.  The project's aim is to engage communities in a conversation about ending all forms of violence.
Maryann's first One Million Stars to End Violence installation was in response to the 2012 rape and murder of a young woman living in her community.
For Maryanne, the "one million stars represents how monumental the task of ending violence is and that everyone needs to participate to end all forms of violence. Each star represents a person's commitment to practice light, hope, courage and solidarity and the one million star installation will be a peaceful statement against all forms of violence in our communities."
Stars from all over the world will come together in one large installation at the Gold Coast 2018 Commonwealth Games in Australia.
Please join us on Friday February 10th at 5:45pm in the Cathedral Centre (65 Church St) to learn and weave stars for this project.
Future events:
Watch for details on the next meeting or contact The Rev'd Leigh Kern.
Seeds of Sanctuary: Sowing Seeds of Connection in our Neighbourhood
This group is a support and solidarity small group, for female-identified people to come together to pray, talk over coffee and cookies, and learn about different issues around the intersection of gender and oppression affecting people in the downtown core of Toronto.
Seeds of Sanctuary intends to provide avenues to connect and learn about initiatives in the Cathedral neighbourhood that address local struggles, with the intention of building relationships and solidarity.
Future meetings will include presentations by community leaders and outing visits to local social services (such as Toronto Native Women's Resource Centre, or All Saints Community Church).