Parish Selection Committee
Parish Selection Committee (PSC)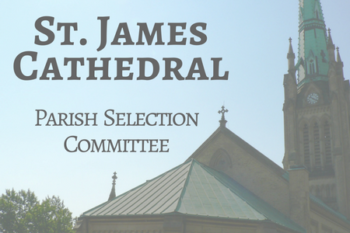 The approval process for the Parish Selection Committee slate is three-fold. First, it was presented to Archbishop Johnson and Bishop Elect Asbil. Upon their approval, it was presented to Cathedral Council. On Thursday August 23, Cathedral Council unanimously received the PSC slate. It will now be presented to special vestry on Sunday September 16, 2018 at 1:00pm in Snell Hall.
Wardens
Don Solomon, People's Warden
Don has attended St. James Cathedral since 2002 and enjoys his duties as a Sidesperson at the Cathedral. Don is a construction manager and has for many years worked as a consultant for a Mississauga consulting firm providing advice on construction claims and public infrastructure procurement. He is married to Debra. Don has been a member of council since 2014 and was elected Deputy People's Warden in 2015 and appointed Deputy Rector's Warden in 2016, and elected People's Warden in 2017 and 2018. Don wishes to work towards the continued sustainability of St. James Cathedral as a place of worship in the heart of Toronto.
Jayne Hobbs, Rector's Warden
Jayne originally attended services at St. James Cathedral in the mid '90s and was delighted to return as a member in 2002, along with her husband, Bob Simpson.  Over the past few years, Jayne has enjoyed being an active participant in the life of the Cathedral by serving as a member of the Cathedral Council, Education Committee, Nominating Committee, Stewardship Committee, FAITH+HUB, Deputy Warden, and as a Sidesperson, Lay Pastoral Visitor, and lay coordinator of special services in assistance to the Vicar. A former educator in the Private Vocational sector, and a past Chair of the Board of Directors for Toronto Habitat for Humanity during its early development years, Jayne also served in leadership roles at other churches prior to attending St. James. Jayne retired at the end of 2016 as Associate Publisher at a Canadian Publishing Company, allowing her the joy of volunteering at Tuesday's
Drop-In.
Parish Members
Sybil Wilkinson
Sybil has been a member of St. James for approximately thirty years. Before retiring, she had a career in the Ontario Public Service for thirty-five years in various senior positions, such as Director of Employment Equity, HR – Staff Relations, Staff Training, and Labour Relations and Negotiations. At St. James, Sybil sings in the Parish Choir, volunteers with the Archives and Museum, and is a trainee bell ringer. She has been an active volunteer for Harbourfront Centre, the Art Gallery of Ontario, Hospice Toronto, Learning Unlimited, and is actively involved in local community organizations such as the CPLC (Community Police Liaison Committee) at 11 Police Division. In 2017, Sybil won the Toronto Legacy Award for volunteering.
Sarah McDonald
Sarah has dedicated her life to the service of others. She is a retired high school principal, who in 2007 was honored as one of Canada's Outstanding Principal's. She was appointed to the Durham Region Police Services as a Commissioner for three consecutive two-year terms. She is an advocate for social justice, especially in the area of housing and this earned her a non-profit corporation named in her honor, "Sarah McDonald's Place." In 2007 her service to her school and many professional organizations, earned her a Canadian stamp designed in her honor and registered with Canada Post. She attributes her call to serve based on her upbringing in the Christian church. Since 2007, Sarah has served in a number of roles such as: member of the Cathedral Council, Chair of the Three Churches Refugee Committee, President of the Board of Mary Lambert Swale Non-Profit Homes, member of two Cathedral Selection Committees. She currently serves as a member of the Cathedral Outreach Committee, and as a Steward. She has served as a member of the Diocese Social Justice Housing Subcommittee, the Synod Agenda Committee, and chairs the Governance and Decision Making Working Group of the Diocese Strategic Plan. She is a member of Diocesan Council and its' Executive Board, and is the Lay Secretary of Synod. On January 1, 2018, Sarah received the Order of the Diocese of Toronto.
Dr. Leslie P. Laing
Leslie has attended St. James Cathedral since 1987 when she moved to Toronto from Brockville, Ontario.  Shortly after, her two sons, Matthew and Mark, were confirmed at the Cathedral. In 2003, the trio became Altar Servers, and Leslie is currently the Altar Server Scheduler, as well as a regular server at the 8:00am, 10:15am, and 11:00am services. In addition to her two sons, Leslie's family includes four dogs, all of whom are setters. In her professional life, Leslie has been a Prosthodontic member at the Faculty of Dentistry, University of Toronto since 2000.  She is a Prosthodontist (dentist specializing in the replacement of missing teeth and other facial features) and an Immunologist.  Her primary area of research is the auto-immune disorder, Sjögren's Syndrome, whose hallmark features are dry eyes and dry mouth. Leslie is the President of the Sjögren's Society of Canada, having assumed the role in April 2018.
Christian Kingsmill
St. James Cathedral has been a constant part of Christian's life and that of his family for seven generations. Not only is he a cradle Cathedral member, Christian and his wife, Marta, were married at St. James, and both their children, Maitland and Hanna, were christened and confirmed at the Cathedral. Christian currently works for a non-profit organization, Montage Support Services, that provides people with the physical and mental supports they need to live a unique and meaningful life. He manages two teams, including the Respite program. Prior to this, Christian managed one of the residential programs at the Bob Rumball Centre for the Deaf for 18 years. A Canadian Red Cross First Aid instructor and a Cub Scout leader, Christian has undertaken several charity events. He can often be seen on Siderspersons' duty at the Cathedral's 11:00am service, greeting parishioners.
David Crawford
David worked in the Australian public sector, which included diplomatic postings as First Secretary to Pakistan (1992-94) and South Africa (1994-98).  Prior to that he was a tutor in history at the University of Sydney and in 1999 he moved to the private sector. As David's father was an Anglican priest in the diocese of Sydney, David worshipped in his parish of All Saints, Parramatta, and later at St Albans, Epping (also in Sydney). In London, England, he attended St Paul's Cathedral. In the past, he has served as a member of synod, council member, server, sacristan, lay reader, and lay assistant. David is a lawyer previously practicing in Sydney and London prior to coming to Toronto.  At St. James, he is a Sidesperson for the 8:00am and 11:00am services, serves on the Cathedral Council, will be the next chair of Refugee Response Committee. He is also a pro-bono lawyer providing legal advice on refugee matters through a non-profit group.
Graham Beck
Graham worked at BMO Capital Markets as Managing Director before he retired after 28 years of service. In 2016 Graham and his wife, Donna and their two daughters, Claire and Caroline, became parishioners of St. James. Graham joined the Finance Committee in 2017 and became Chair in 2018.  Previously, Graham and family were members of St. Cuthberts, where Graham was treasurer during a period of senior clergy turnover, large capital fundraising and new construction. Recently Graham sat on the Fundraising and Marketing Committee for the Gerstein Crisis Centre (Mental Health and Addiction), in downtown Toronto. Graham is a lifetime volunteer and supporter of many charitable organizations.