Staff & Lay Leaders
Administration & Communications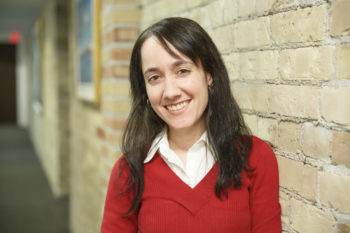 Lisa Scapillato
Administrative Assistant, The Dean's Office
more
Contact Lisa
lscapillato@stjamescathedral.ca
(416) 364-7865 ext *229
As administrative assistant, Lisa is responsible for the day-to-day operation of the Dean's office, including the preparation of all service materials, administration for the cathedral team, and the processing of donations.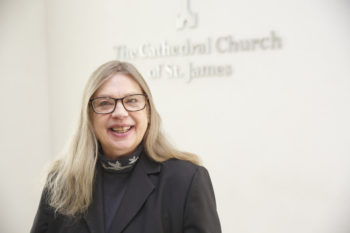 Wendy Pappas
Receptionist
more
A member of the Cathedral staff for over 11 years, Wendy is the first person parishioners and guests see when they enter the Cathedral Centre. Wendy manages the phone switchboard, answers inquiries from the public, provides administrative support to the staff, and manages the ticket sales for our internal events.
Contact Wendy
(416) 364-7865 ext *221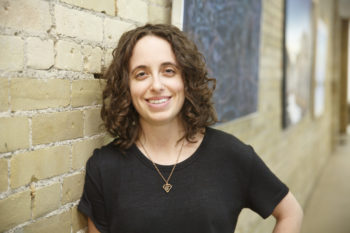 Jessie-Ann Baines
Communications Manager
more
Contact Jessie-Ann
(416) 364-7865 ext *288
Joining the Cathedral team in November 2017, Jessie-Ann oversees and manages all communications; from weekly bulletins, to the Cathedral's social media accounts, to the newsletters, annual vestry reports, and narrative budgets.
Archives & Museum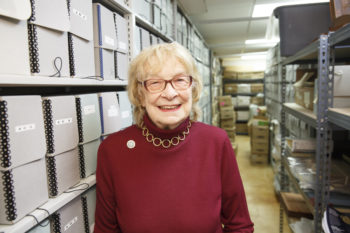 Nancy Mallett
Archivist & Museum Curator
more
Contact Nancy
(416) 364-7865 ext *233
A former elementary school Vice-Principal, Nancy began leading tours of the Cathedral some thirty years ago. She was asked to take responsibility for the Archives and Museum here in March 1998, and it became a full-time occupation almost immediately. Nancy oversees the collection, maintenance, and upkeep of our archives and museum, leads tours of the Cathedral, and organizes frequent events and exhibits. She also serves as a wellspring of knowledge of the history of the Cathedral.
Rhonda Yearwood
Archives Assistant
more
Contact Rhonda
As the Archival Assistant since 2015, Rhonda fulfills numerous archival and curatorial duties, including research, accessioning artifacts, and helping with exhibits. Rhonda has a Masters of Art Gallery and Museum Studies from the University of Manchester.
External Events
Lucia Al-Zaiatova
Event Operations Manager
more
Contact Lucia
lalzaiatova@stjamescathedral.ca
(416) 364-7865 ext *231
Lucia has been at the Cathedral since 2012, having previously worked in the insurance industry.  As the Event Operations Manager, Lucia manages the External Events team, setting out policies and procedures, in addition to managing internal and external events.
Nathan McNeil
Site Events Coordinator
more
Contact Nathan
(416) 364-7865 ext *303
Nathan brings over a decade of event coordination to the Cathedral Centre events team. As a Site Events coordinator, he is in charge of the logistical planning and operations of all internal events, working with clients, and external vendors.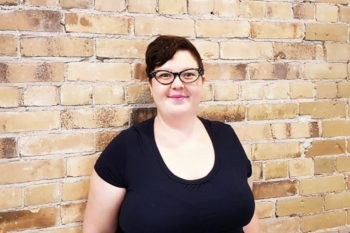 Olga Sein
Site Events Coordinator
more
Contact Olga
(416) 364-7865 ext *304
Families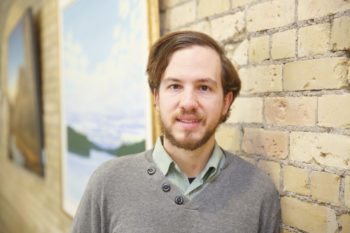 Andrew Kuhl
Children, Youth, and Families Coordinator
more
Contact Andrew
(416) 364-7865 ext *826
A Masters Student in Theology at Wycliffe College since 2012, Andrew joined St. James Cathedral in September 2017. He previously worked in a variety of roles – including serving, lay anointing, lay preaching, and leading small groups – at St. George the Martyr, Anglican Church.
His vision for the ministry is to empower children and youth to develop and grow a foundation of faith, within which they are able to ask questions and explore their own faith in a safe and supportive environment.
Health & Outreach
Kathy Biasi
Outreach Program Coordinator
more
Contact Kathy
(416) 364-7865 ext *222
As Outreach Program Coordinator, Kathy manages our Tuesday Drop-In, provides outreach support, oversees volunteers, and heads up the St. James arm of the Faith+Hub network.
Kathy holds a BA in psychology and has an extensive background in the social service/non-profit field; including shelters, second-stage housing, outreach, and other drop-ins. Kathy joined the Cathedral team in May 2017.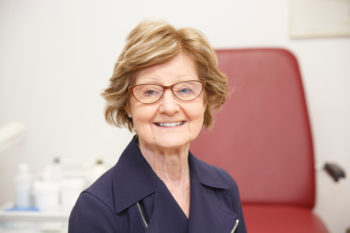 Gloria Weibe
Health & Foot Care Clinic Coordinator
more
Contact Gloria
(416) 364-7865 ext *230
Gloria has been involved with the Cathedral for decades, joining in 1980 as a member of the Parish. In 1998, she became St. James' first Parish Nurse – when the concept of parish nursing was just emerging in Ontario. Gloria identified foot care as a major health care need of many Drop-In guests – a need not answered elsewhere. With the Cathedral's support, and individual donations, the foot care clinic was born. Gloria manages the clinic, and sits on the Health Council and Lay Pastoral Visitor teams.
Music
Property & Finance
Cathedral Governance
Cathedral Wardens
Don Solomon
People's Warden
Jayne Hobbs
Rector's Warden
Joan Peters
Deputy People's Warden
Graham Beck
Deputy Rector's Warden
Contact the Wardens: wardens@stjamescathedral.ca
Cathedral Council Members: David Crawford, Joe Minta, Sandra Mowat, Kate Uchendu, Jackie Jagoda, Pat Maltby, Russell Mark, Gordon Robison
Ex-Officio Council Members: Rob Saffrey (Operations),
The Dean, The Vicar
Lay Delegates to Synod: Angela Carroll, Jenny Formanek, Russell Mark, Ed McBride, Sybil Wilkinson
Synod Alternates: David Grant, Robert Hart, Carol Kysela
Lay Leaders
To get in touch with Cathedral Lay Leaders, please contact the main office.
Altar Guild: Yosola Adeoye
Amnesty Action Circle: Carol Burnham Cook
Archives & Museum: Nancy Mallett
Book Club: Ruth Davis
Carillon Bells: Annie Odom
Change Ringers: Madeleine Cheesman
Education for Ministry Mentor: Carol Kysela
Greeters: Yvonne Joseph
Health Council: Joanne Short
Lay Visitors: Cecil Fennell
Outreach Committee: Jenny Formanek
Servers & Sacristans: Paul Seddon, Leslie Derbecker
Sidespersons: Barbara Hirst and Bob Simpson
Stewards (9:00am): Rob Haines
Tour Guides: Nancy Mallett
York Group: Ann Abraham & Jane Rowan