York Group
 
Upcoming Meetings
The York Group usually meets on the second Thursday of the month (except July & August), beginning with Holy Eucharist at 12:30pm in the St. George's Chapel followed by Lunch and Program in the Lecture Room on the second floor of the Cathedral Centre. Guests should bring a bagged lunch, tea and coffee is provided. All are welcome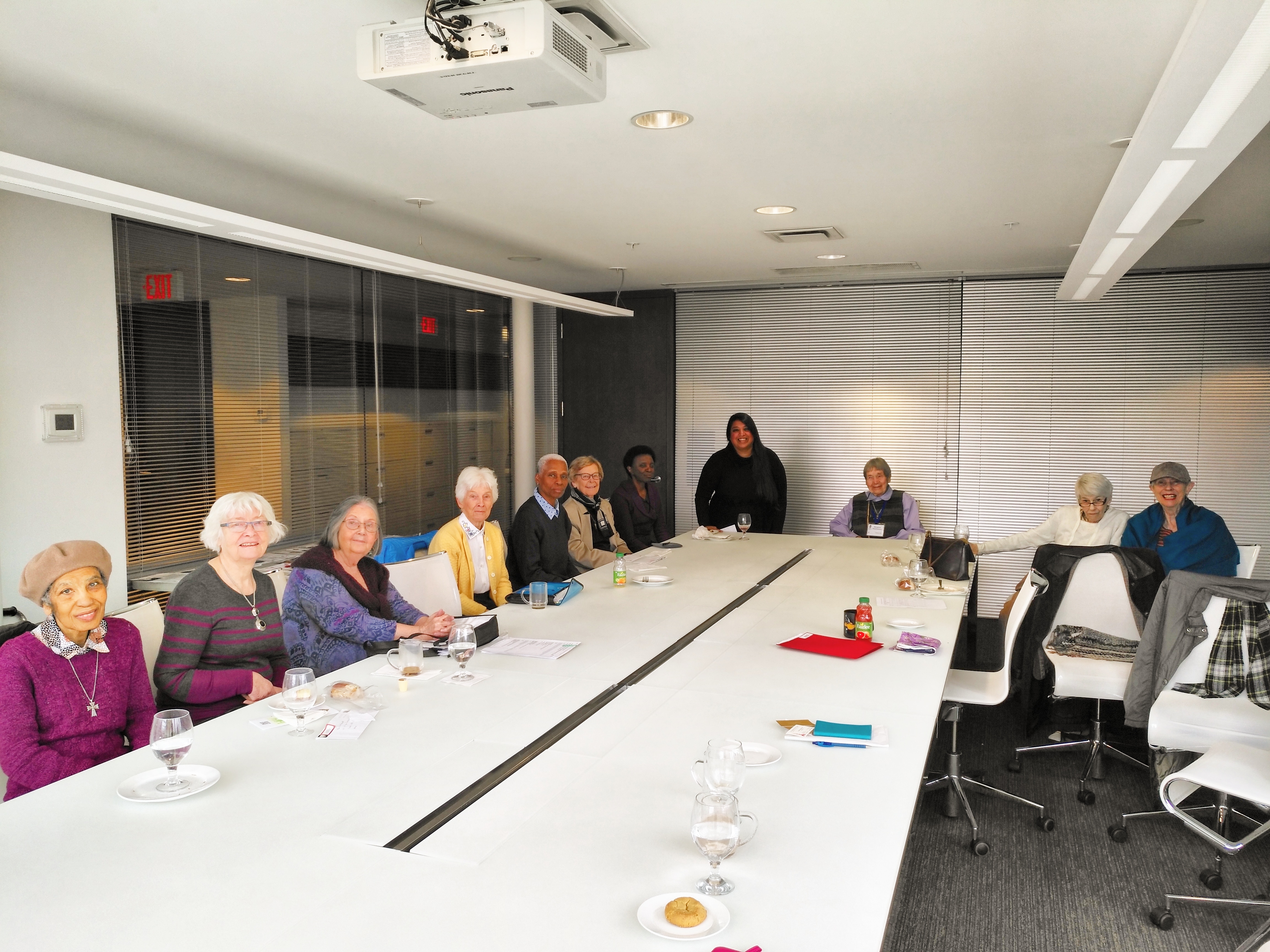 .
May 10, 2018: Mooreland's Baby Shower. Catered finger food lunch.  We are looking for donations of baby supplies and knitted goods. Collections will start at least one month prior to event.
June 14, 2018: Celebrate Seniors Month. Panel discussion "MIND, BODY & SOUL".  Catered lunch.  Please RSVP one week in advance.
September 13, 2018: Service Canada will be joining to speak about pensions, and protecting one's identity. Light lunch provided.
October 11, 2018: 1:00 – 3:00 Tour McMichael Canadian Art Collection in Kleinberg. Bus transportation from 65 Church St.  The guided tour is 1 hour. Reserve 3 weeks in advance.  For this event, no lunch is provided.  The York Group will cover the cost of admission and transportation and will accept a donation towards the cost.  There is a dining room at the Gallery that you could reserve a lunch before or after the tour.  We will be arranging a shuttle bus that will leave the Church by 12:00 and bring you back at 3:00 pm.
November 8, 2018: Remembrance Day Speaker from the Royal Canadian Legion. Pizza provided. Please RSVP one week in advance.
December 13, 2018: Lunch with the Clergy (TBA). Christmas lunch provided. Please RSVP one week in advance.
We're 100 years old!
The York Group has a 100-year history of devotion and service at the Cathedral.  Our name has changed over the years and our role has evolved.  Until the past decade, we were a women's group and the majority of members are still women.  But we have moved with the times and we want to go further.  Today we welcome men as well, and we welcome ideas.  We are open for new purpose and new members with a fresh commitment.
We meet regularly!
The York Group includes parishioners and friends.  It meets in the daytime on the second Thursday of each month from September to June for devotion, fellowship and service.  At our meetings we begin with the Eucharist at 12:30am, we socialize over lunch, we benefit from speakers and presentations and we serve the needs of others with funds and fundamentals.
We listen, we learn!
Our speakers spirit us to far-away places with their words and slides.  They share their interesting and unusual life work experiences.  They inform us about special groups in our church, our city and our world.  They demonstrate skills in art, embroidery and practical abilities for everyday living.  They increase our awareness to help us protect our rights and our safety.
We thrive on interest!
We have financial resources through the generousity of the late Anna M. Brock whose bequest has ensured our on-going ability to help others.  And we receive donations from parishioners to further our work.  However, there is always a need to expand and we look to the future for inspiration and new commitment that will broaden our role at the Cathedral.
We're happy to serve!
Once a year we hold a baby shower for needy young mothers.  Members and friends, especially the very talented Happy Hands Knitting Group, donate many beautiful handmade baby outfits, quilts and blankets and other necessities for newborns.
Each summer we make it possible for groups of inner city children to attend camp where they enjoy developing many life skills and discover the northland as part of their heritage.
During the year we give financial support through agencies to provide lodging, meals, clothing and counselling to people in need.
The Donna McLaren bursary is awarded annually to provide assistance with educational expenses to a post-secondary student.  The bursary was initiated in 1997 when the York Group compiled a cookbook of two hundred recipes to celebrate St. James' bicentennial.
Photos from the 2016 Moorelands Baby Shower