Social Media Sunday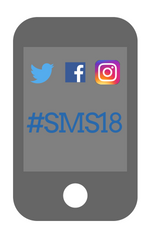 Join Christians from across the globe in sharing your attendance at church on social media on Sunday, September 30.
Social Media Sunday (SMS) began in the Episcopal Church in 2013, and has since spread across the globe as ecumenical event for individuals to share their faith and the Good News across social media.
There are lots of ways to participate in #SMS18 – 'checking in' to St. James on Facebook, tweeting a quote from the sermon, posting a selfie with a fellow parishioner on instagram, and sharing a picture of the Cathedral are just a few ways to participate. If you don't want to post or share anything yourself, you can like, comment, or share posts from your fellow social media-savvy churchgoers.
If you're not already on social media, today could you be your chance to join and connect to a community of like-minded Christians from across the globe.
Connect with St. James on social media at facebook.com/stjamesto. Be sure to tag your posts with #SMS18 and #stjamesTO.